This is the second instance of my blog 'xirdalium.' The first instance for years ran fine on a university server, but then technical problems became overwhelming. Ye ole 'xirdalium' meanwhile is no more. Hence I decided to give it a go, got a proper domain on the servers of a professional hoster, switched from Blosxom to WordPress, and here we are. 'Xirdalium' for years was on the university server, because it, and a static website, accompanied my research-project 'maxmod—an ethnography of cyberculture' which meanwhile is finished. Well, not exactly, I haven't published the book yet, because I am reworking it on a grand scale, and re-insert everything I skipped. Things to come, and this is why I need 'xirdalium' reliably online. Everything which was on my old domain xirdal.lmu.de will be migrated here, as time permits. Ah, yes, by the way, I am ↑Alexander Knorr, anthropologist—online better known as zephyrin_xirdal … just call me zeph.
By profession I am an anthropologist, mainly focussing upon technology, computer- and Internet-technology, gaming culture, and the like. An important focus of mine are the connections between contemporary 'cyberculture' (whatever that is), cybernetics and cyberpunk. Accordingly xirdalium carries a somewhat weird stack of topics, me thinks.
The header picture is a quick'n'dirty Photoshop-job of mine. It is based on photographies taken on the Moon during the ↑Apollo 15 mission in 1971—the first mission where the Lunar rover was in use. The picture shows the mission's commander ↑Dave Scott at ↑Hadley Rille. The photographer, lunar module pilot ↑Jim Irwin, is mirrored in Dave's visor. Scott and Irwin are numbers seven and eight of the only one dozen human beings who ever have been on another planet. The font used in the header picture is called 'Federation Classic' and is floating around the Net as a free font—until today I couldn't fathom its creator.
The picture I used in fact already is a composite picture, created by René Cantin: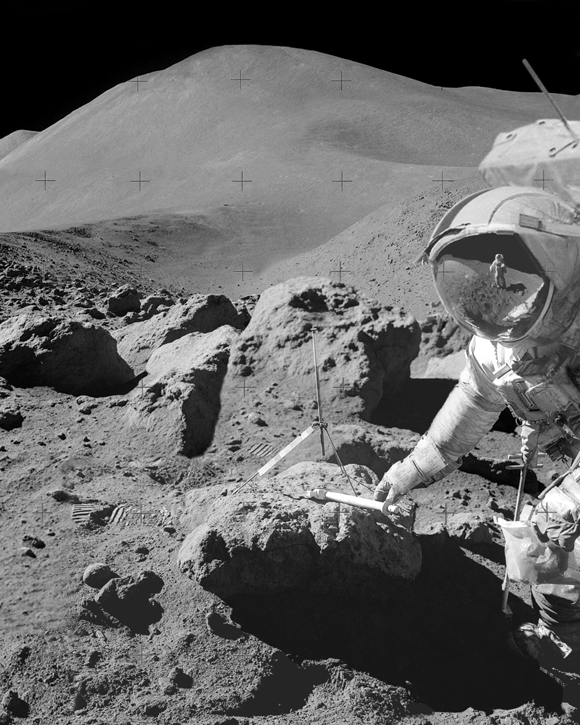 Here is the ↑entry at NASA's Apollo Lunar Surface Journal, dating 07 November 2007:
René Cantin has created a portrait of Dave Scott at Hadley Rille called ↑A La Terrasse (At The Terrace). René writes, "Here is a montage of Apollo 15 photos taken by astronaut Jim Irwin at the Terrace at Hadley Rille, plus some artistic work on my part. If Irwin, at this moment in history, had raised his camera just a little bit, this is what we would have seen behind Dave Scott." The Terrace is a broad shoulder on the edge of the Rille which, as indicated in the ↑pre-flight Apollo 15 EVA [Extra-vehicular activity]-3 traverse map and in the ↑Final Lunar Surface Procedures volume, extended from about the planned location of Station 9 northwest to the planned location of Station 11. Dave and Jim did Stations 9a and 10 near the planned locations '9' and '10' and, hence, A La Terrasse. René tells us that he used AS15-82-↑11146, which shows Dave reaching for the hammer, training photo ↑71-H-1103 for the LEVA [Lunar Extravehicular Visor Assembly], AS15-82-↑11147 for the view down the rille, and portions of various other photos. In using 71-H-1103, he had to add a Commander's Stripe to the LEVA and, as a final master stroke, ↑reseau crosses.