zeph's pop culture quiz #39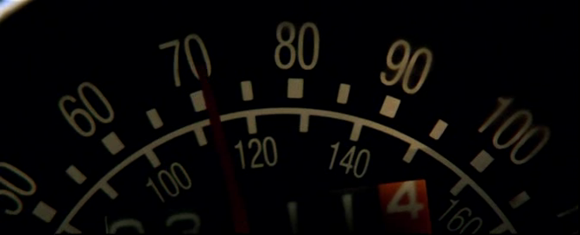 A vehicle is dashing through the night at about 70 miles per hour, but who is driving?
Just leave a comment with your educated guess—you can ask for additional hints, too. [Leaving a comment is easy; just click the 'Leave a comment' at the end of the post and fill in the form. If it's the first time you post a comment, it will be held for moderation. But I am constantly checking, and once I've approved a comment, your next ones won't be held, but published immediately by the system.]
UPDATE (28 August 2012):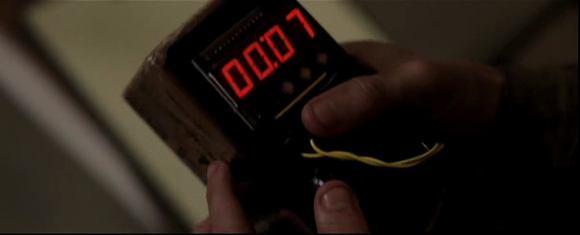 As nobody seems fit to place an educated guess, here's another screencap. As you see, the number seven, as in 70 miles per hour, creeps up once more in the movie we're looking for. The person holding the pictured device is the same one who is driving the vehicle through the night.
UPDATE and solution (04 September 2012):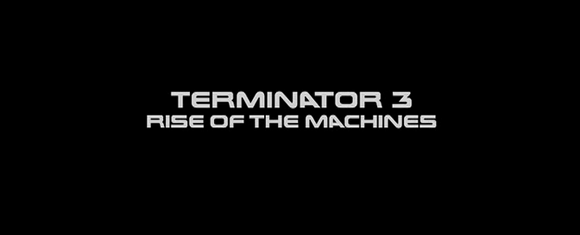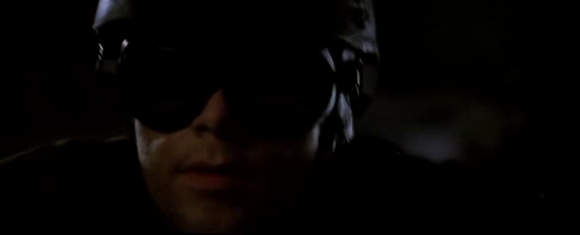 It astounds me a bit that nobody came up with the solution for this one, especially in the face of the information I gave in the comments: It's John Connor (Nick Stahl) driving his motorcycle through the night early on in '↑Terminator 3: Rise of the Machines' (Mostow 2003). The screencap with the bomb-countdown stopped at seven seconds I deliberately chose because it's an obvious citation of the showdown-scene in '↑Goldfinger' (Hamilton 1964), when the countdown of the nuclear bomb Auric Goldfinger (Gert Fröbe) placed within Fort Knox, is stopped at the same time—not by Bond (Sean Connery). As it seems, ↑in an episode of 24 the same citation appears.
HAMILTON, GUY. 1964. Goldfinger [motion picture]. Los Angeles: United Artists.
MOSTOW, JONATHAN. 2003. Terminator 3: Rise of the machines [motion picture]. Burbank, Los Angeles: Warner Bros., Columbia Pictures.