cosmic communist constructions photographed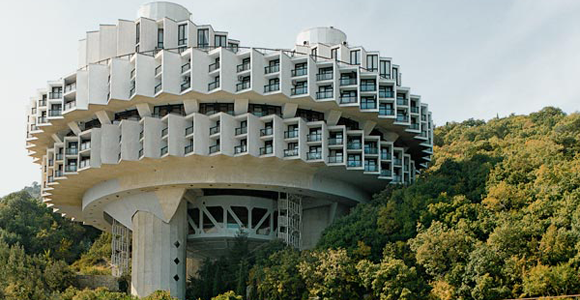 Until recently I never was aware that the cyberpunkish movie 'Rollerball' (Jewison 1975) was mainly shot in my city, but Wikipedia wisened me up: 'Among the filming locations used was the Rudi-Sedlmayer-Halle as arena, the then-new BMW Headquarters and Museum buildings in Munich, Germany, appearing as the headquarter buildings of Energy Corporation and the Olympiapark, Munich.' Fittingly enough the latter today is the base for Munich's Parkour-practitioners. Back in the early '70s all those buildings were brand new and deemed to be futuristic—in a strange way they still are today. And that is the link to the work of cambodian born french documentary photographer (and editor in chief of the french lifestyle magazine Citizen K.) Frédéric Chaubin. Since 2003 he is haunting the territory of the former Soviet Union, hunting for out-of-the-ordinary soviet architecture. And strangely futuristic are his finds. The photography at the top depicts the Druzhba rest-house at Yalta. And here is more:




From top to bottom: The Ministry of Highways at Tbilisi, the Technology Institute at Minsk, and that robot-head is the House of Soviet at Kaliningrad.
An exhibition of Chaubin's pictures is on tour at the moment, and now there is a catalogue available (text in German, English, and French), showing pictures of 90 buildings—all built between 1970 and 1990—from 14 former soviet republics. Storefront for Art and Architecture says:
Over the past five years, during the course of his travels in the former Soviet Union, French photographer Frederic Chaubin has documented an extensive collection of startling architectural artifacts born during the last two decades of the Cold War. Architects in the peripheral regions of the Eastern Bloc countries, working on governmental commissions during the '70s and '80s, enjoyed a surprising degree of creative freedom. Operating in a cultural context hermetically sealed from the influence of their Western counterparts, they drew inspiration from sources ranging from expressionism, science fiction, early European modernism and the Russian Suprematist legacy to produce an idiosyncratic, flamboyant and often imaginative architectural ménage. Unexpected in their contexts, these monumental buildings stand in stark contrast to the stereotypical understanding of late Soviet architecture in which monotonously repetitive urban landscapes were punctuated by vapid exercises in architectural propaganda.
CHAUBIN, FRÉDÉRIC. 2011. CCCP—Cosmic Communist Constructions photographed. Köln: Taschen.
JEWISON, NORMAN. 1975. Rollerball [motion picture]. Century City: United Artists.
via CT by email—tnx!