what goes up must come down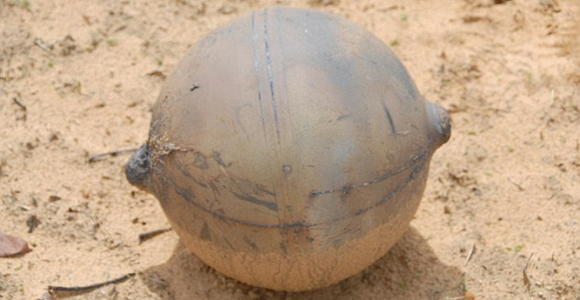 Do you remember '↑The Gods Must Be Crazy' (Uys 1980)? That old comedy movie telling the story of Xi, a Kalahari bushman, who undertakes an epic journey to bring an artefact which fell from the skies back to the gods? Well, in the midst of November this year it wasn't a Coca-Cola bottle, but a metal sphere that fell from the skies over Namibia. On its impact the sphere, 35cm in diameter and about 6kg heavy, dug a crater about 30cm deep and 4m in diameter. Local authorities contacted NASA and ESA, asking for help in identifying the object, and the press agencies had the story circle the globe. Now ↑it seems to be clear that the sphere is a 39 litre 'Hydrazine propellant tank' used in unmanned rockets for bringing satellites into orbit. As I understand the matter the geographical location where the tank went down matches the routes of such rockets. Just thought this an appropriate post for today, before rockets go up in the sky tonight celebrating the new year, and of course not long ago there were some ↵flying-sphere related associations. I also thought that it looks like the head of an ancient ↵decommissioned robot.
UYS, JAMIE. 1980. The gods must be crazy [motion picture]. Johannesburg, Century City: Ster Kinekor, 20th Century Fox.