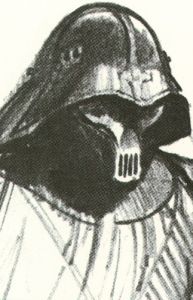 Last Saturday ↑Ralph McQuarrie died age 82 in Berkeley, California. What ↑Syd Mead ↵is for 'Blade Runner' (Scott 1982), Ralph McQuarrie was for 'Star Wars' (Lucas 1977)—the decisive conceptual designer. McQuarrie gave us the whole look and feel of Star Wars and e.g. the now since long globally recognized iconic figures C-3PO, R2-D2, and of course Darth Vader.
As a kid I was blown away by his early sketches of these characters, and I still am today. To my eye they have a somewhat darker quality than the versions finally to be seen in the movies.
At the official website ↑The Art of Ralph McQuarrie there are numerous galleries showing off a plethora of concept drawings and paintings for the original Star-Wars trilogy and all the other projects McQuarrie has worked on.

LUCAS, GEORGE WALTON. 1977. Star wars [motion picture]. Century City: 20th Century Fox.
SCOTT, RIDLEY. 1982. Blade runner [motion picture]. Burbank: Warner Brothers.