zeph's pop culture quiz #21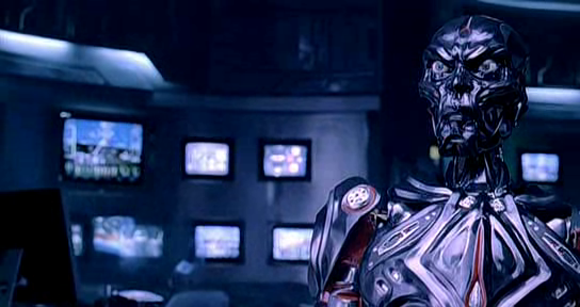 What is he/it incapable of? What can't he/it do in the scene depicted?
Just leave a comment with your educated guess—you can ask for additional hints, too. [Leaving a comment is easy; just click the 'Leave a comment' at the end of the post and fill in the form. If it's the first time you post a comment, it will be held for moderation. But I am constantly checking, and once I've approved a comment, your next ones won't be held, but published immediately by the system.]
UPDATE and solution (28 March 2012):
Frankly, I do not have the faintest idea of how he could know that, but Alexander Rabitsch ↵correctly stated that the movie is ↑Endhiran [aka Enthiran, original title: எந்திரன்] (Shankar 2010). In India there are two large movie industries; the Hindi-language one bases in Mumbai, formerly Bombay ('Bollywood'), and the Tamil-language one, based in Chennai, formerly Madras. Endhiran, meaning 'robot,' is a 2010 Tamil-movie starring ↑Aishwarya Rai. It's pure cyberpunk, and at the same time a pure Indian movie—get a taste of it at ↑the official website.
And here is the solution to the question. The evil scientist makes a test of his creation, the mean looking robot. He activates him and gives him commands: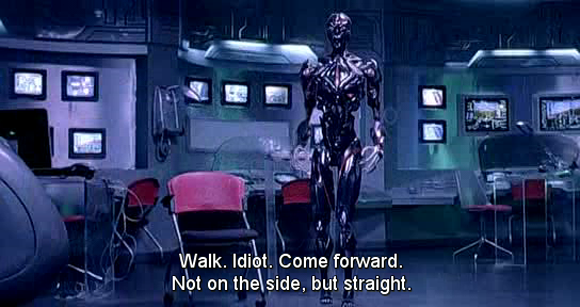 But the robot acts clumsy, even hits a table, and the evil scientist exclaims: 'Shit!' The machine takes that for a command and replies: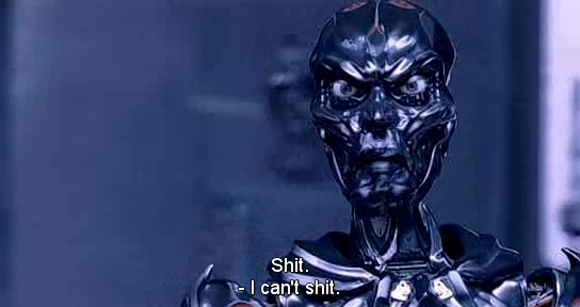 The clumsiness goes on and finally the robot, after firing a gun, falls to the floor. His creator is upset and makes clear that he doesn't think much of him: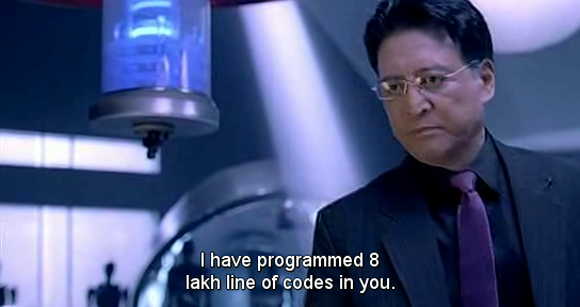 Which is returned by quite a tell-tale stare …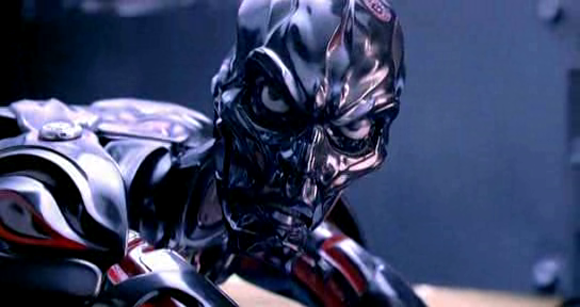 SHANKAR. 2010. Endhiran (aka Enthiran aka The robot, original title: எந்திரன்) [motion picture]. Chennai: Sun Pictures.