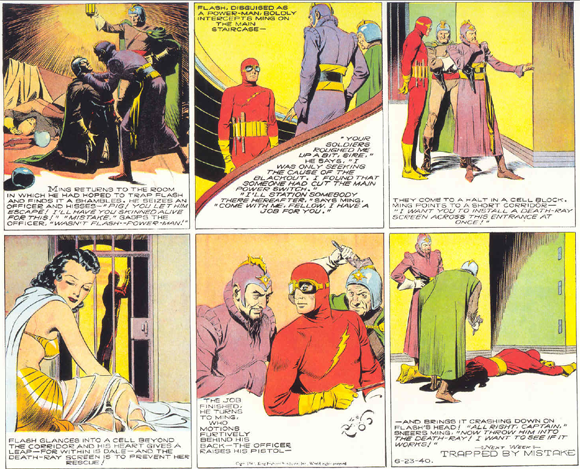 This is the King Features '↑Flash Gordon' Sunday strip by ↑Alex Raymond as it was published on 23 June 1940. We see Gordon [whose adventures began on 07 January 1934] disguised as a 'Power-Man' ['the experts on whom Mongo's electrified civilization depends'] infiltrating the palace of ↑Ming the Merciless—and being detected. Please note the design and colour-scheme of the Power-Man uniform Gordon is wearing. The full uniform first was depicted two weeks earlier, in one panel of the strip of 09 June 1940.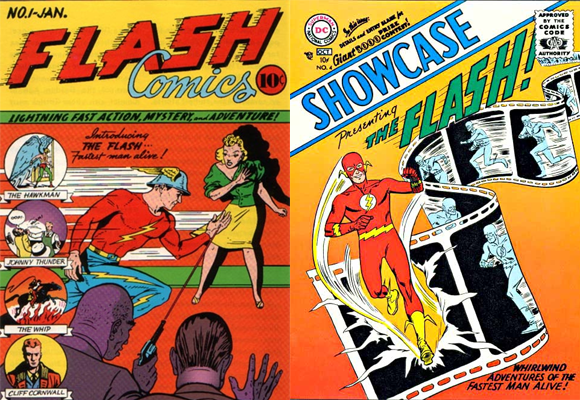 Earlier the same year the DC-superhero '↑The Flash' first appeared in Flash Comics #1, published in January 1940 [above left], drawn by Harry Lampert. The long-sleeved t-shirt worn by the fastest man alive is practically identical with the one of Flash Gordon as a Power-Man. The rest of the dress is totally different. Nevertheless does it seem like Raymond was inspired by the ↑Golden Age's speeding superhero.
The ↑Silver Age Flash had his debut in Showcase #4 [above right], pencilled by ↑Carmine Infantino and inked by ↑Joe Kubert. This time it seems to be the other way round: the inspiration for the superhero's looks comes from Raymond's work.