zeph's pop culture quiz #54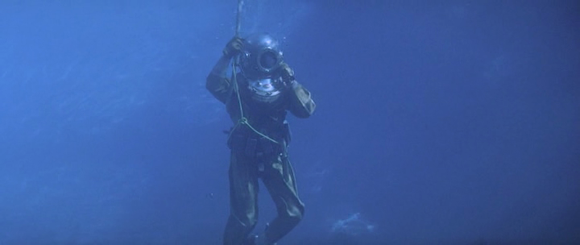 Who is diving down into the big blue?
Simply leave a comment with your educated guess—you can ask for additional hints, too. [Leaving a comment is easy; just click the 'Leave a comment' at the end of the post and fill in the form. If it's the first time you post a comment, it will be held for moderation. But I am constantly checking, and once I've approved a comment, your next ones won't be held, but published immediately by the system.]
UPDATE 1 (02 January 2013):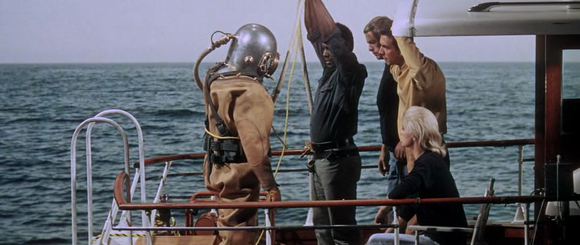 We had some fine guesses until now, but no direct hit yet. The above screencap, showing our hero before diving into the sea, hopefully helps. What we know so far: The character in the diving suit is played by an actor of maximum stardom. It's a 1960s movie, neither a French nor Italian production, so the odds are good that it is American. Notwithstanding there is a touch of Italy in it. The diver is searching for something beneath the sea. He doesn't find it, but something entirely different. This gives him and his posse, seen in the new screencap, an extraordinary idea …
UPDATE 2 and solution (07 January 2013):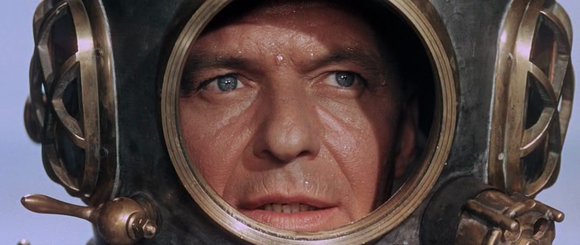 And ↵again Mona did it—congratulations! It's Frank Sinatra in '↑Assault on a Queen' (Donohue 1966). My hint towards 'something Italian in the movie' was twofold: First Sinatra himself was the child of Italian immigrants, second the female lead was played by Italian beauty ↑Virna Lisi, maybe best known for her role alongside Jack Lemmon in the comedy '↑How To Murder Your Wife' (Quine 1965).
When diving as pictured Sinatra as Mark Brittain searches for Spanish galleons, supposedly containing a treasure. Instead he finds a sunken German U-boat stemming from World War II. This gives his gang the idea to reactivate the old submarine and use it to pull a heist on the ocean liner Queen Mary …
DONOHUE, JACK. 1966. Assault on a Queen [motion picture]. Hollywood: Paramount Pictures.
QUINE, RICHARD. 1965. How to murder your wife [motion picture]. Los Angeles: United Artists.