When I entered the last chapter of ↑Far Cry 2 (Ubisoft Montreal 2008) my account read 178 diamonds. The sneaky bastard I am, I felt so comfortable once I had the combination of silenced P9, Dragunov, dart rifle, and the camouflage suit, there was no reason for me to spend anything on new equipment. The payments for accomplished missions came in, and the fortune amassed till ↑suicide was painless.
Somehow mixing this up with my bank account, the one my salary as an anthropologist goes to, yesterday evening I strolled into a shop and laid fifty quid down on the counter. In return I received a brand new copy of ↑Deus Ex: Human Revolution (DX3; Eidos Montreal & Nixxes Software 2011). I had read high praise of the game (carefully avoiding spoilers), the ↑Deus Ex series is not only as legendary as ↑Doom and ↑Half-Life, but also is purest cyberpunk imaginable (even the headquarters of the game's publisher, Square Enix, is located in Shibuya and my friends over at cyberpunkreview.com ↑gave it nine out of ten stars).
Plus I again wanted to play a current title (DX3 was released in Europe only two weeks ago), and not hang back years as it was the case for so long—which is not completely true, as I played through ↑Call of Duty: Black Ops (Treyarch 2010) in June this year; article of mine on it pending.
You see, purchasing DX3 was an unavoidable must.




The installation process took about 20 minutes but went like a breeze, without any problems whatsoever. After firing up the game, the splash screen already confirms what was discussed in forums and reviews. The visual æsthetics blend futuristic with ↑baroque and ↑rococo elements. If memory serves me correctly, it was illustrator ↑Jim Burns who coined the term 'baroque science fiction' for this particular visual style.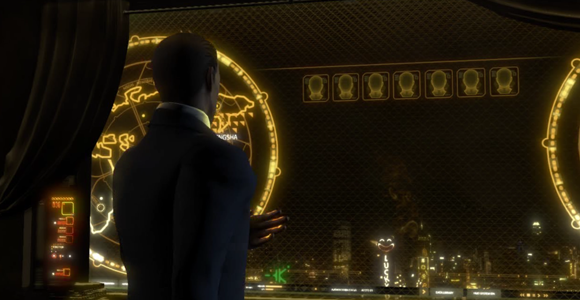 This is very much in synch with overall cyberpunk æsthetics, incorporating retro-elements. It's of course not steampunk æsthetics, but somewhere within one and the same continuum of style.
An authors' ruse also has impact on the visual style: DX3 is a prequel, set in 2027, 50 years before the stories of DX1 and 2. So the dominant technology is not yet nanotechnology, but electronics and electromechanics. This allows beautiful looking cyborg-parts, blending perfectly with the retrofitted future and leading to a more visual discussion of post- or transhumanism.
At cyberpunkreview.com zecalvin came to ↑this conclusion:
I have to admit I was both enthusiast and scared at the idea of a new Deus Ex. We could have feared that a cross platform project would have a poor gameplay, but Eidos Montreal has listened to it's fan community to bring you a total masterpiece. Of course, everything is not perfect, but Human Revolution has kept the strength of the first game : rewarding gameplay, well written plot, excellent global design … This game is definitely worth playing. And for those who played the other games, Eidos has taken care of the fan service, so you'll find a lot of easter eggs …
If you head over for reading zecalvin's review (recommended), don't miss its update, as it seems that Eidos Montreal indeed listened to the cyberpunk fanscene and for example ↑roamed around the cyberpunk review forums.
With the game up and running I first opt for the tutorials from the main menu, which are a bit of a disappointment. They are not playable as I expected, but videos with explanations by a female voice off camera. Presumably I will be made hands-on familiar with the gameplay mechanics during the opening parts of the story into which I now delve.
Beautifully detailed graphics unfold, immediately setting the ↑Blade Runner ambience. Dialogue-heavy ↑cutscenes pull me further inside the storyworld.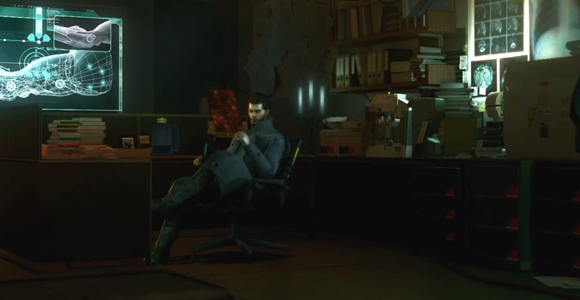 When I finally come out of the cutscenes and for the first time take control of ↑Adam Jensen, the game stutters a bit, and the engine begins culling textures. The detailed graphics lead my system to the edge. No wonder, as I built my machine back in March 2007. No improvement of the hardware done since then. Quite to the contrary, in December last year I had to ↵remove one of the graphics cards. So there will be no way around a hardware upgrade soon; a new CPU and graphics card in particular, maybe new and more RAM, too. Especially with ↑Rage (id Software 2011) already around and ↑Arkham City (Rocksteady Studios 2011) ↵looming at the horizon.
That's it for now—yesterday night I only had a couple of minutes to take a glimpse into DX3. At the moment I can't play on, because I have to do my tax declaration, which is way overdue. I wonder how I will explain those 178 African diamonds …
EIDOS MONTREAL AND NIXXES SOFTWARE. 2011. Deus Ex: Human Revolution [computer game]. Shibuya: Square Enix.
ID SOFTWARE. 2011. Rage [computer game]. Rockville: Bethesda Softworks.
ROCKSTEADY STUDIOS. 2011. Batman: Arkham City [computer game]. Burbank, Shibuya: Warner Bros. Interactive Entertainment, Square Enix.
TREYARCH. 2010. Call of Duty: Black Ops [computer game]. Activision, Square Enix: Santa Monica, Shibuya.
UBISOFT MONTREAL. 2008. Far Cry 2 [computer game]. Montreuil-sous-Bois: Ubisoft.