zeph's pop culture quiz #23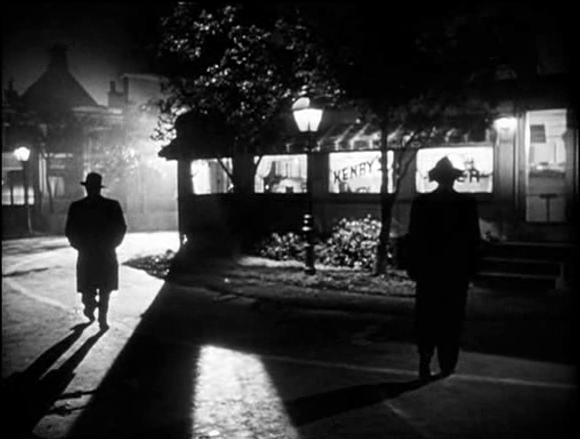 It's noir-time at zeph's pop culture quiz … the two menacing silhouettes sporting fedoras—who are they? It so happens that the answer to the question at the same time is the title of the movie in question.
Just leave a comment with your educated guess—you can ask for additional hints, too. [Leaving a comment is easy; just click the 'Leave a comment' at the end of the post and fill in the form. If it's the first time you post a comment, it will be held for moderation. But I am constantly checking, and once I've approved a comment, your next ones won't be held, but published immediately by the system.]
UPDATE and solution (10 April 2012):
Number 23 was not yet five hours old and ↵ryoku already got it completely right: Max (William Conrad, on the left) and Al (Charles McGraw), '↑The Killers' (Siodmak 1946) they are! Here they are a minute later, having entered Henry's Diner, at the counter—now Al is on the left: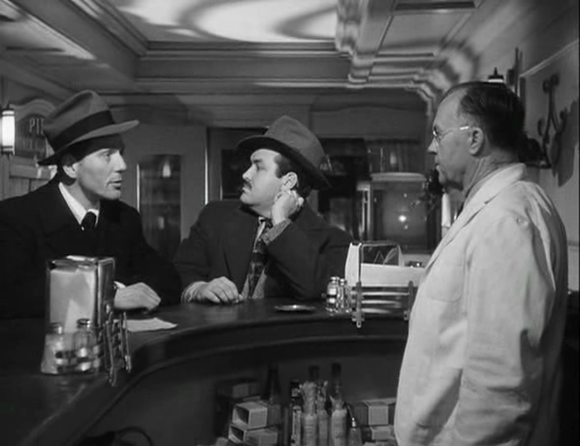 Siodmak's 'The Killers' is an absolute noir classic featuring non-linear storytelling. The first 20 minutes are a faithful adaptation of Ernest Hemingway's short story of the same name (1927). The movie was Burt Lancaster's screen debut and Ava Gardner's first notable role, which made her career take off.
HEMINGWAY, ERNEST MILLER. 1927. The killers. Scribner's Magazine 81(3): 227-233.
SIODMAK, ROBERT. 1946. The killers [motion picture]. New York: Universal Pictures.