zeph's pop culture quiz #24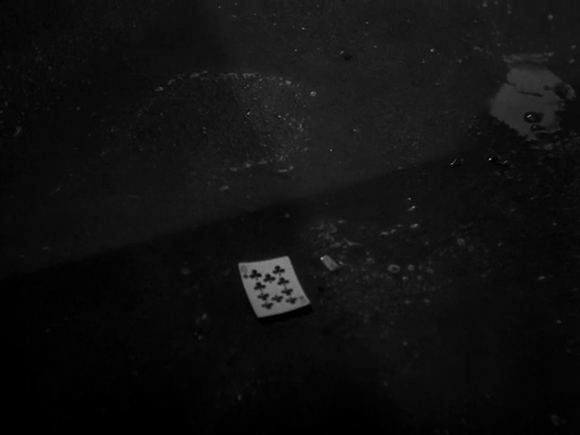 It still is noir-time around here: Who dropped the ten of clubs on the dark, wet street, and why? On the one hand playing cards have something to do with the character in question, on the other hand the dropping is needed for the advancement of the plot. Plus, in the time the dropper was a star, a true icon.
Just leave a comment with your educated guess—you can ask for additional hints, too. [Leaving a comment is easy; just click the 'Leave a comment' at the end of the post and fill in the form. If it's the first time you post a comment, it will be held for moderation. But I am constantly checking, and once I've approved a comment, your next ones won't be held, but published immediately by the system.]

UPDATE and solution (19 April 2012):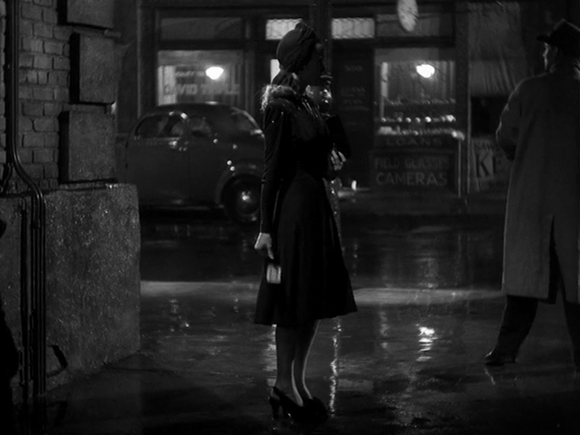 Ryoku ↵did it again—congratulations! As you can see above ;) it was 1940s movie icon and pin-up goddess ↑Veronica Lake who dropped the ten of clubs. In '↑This Gun for Hire' (Tuttle 1942)—based on ↑Graham Greene's novel 'A Gun for Sale' (1936)—she is kidnapped by the cold-as-ice contract killer Raven (↑Alan Ladd—to the far right in the screencap). Lake's character Ellen Graham is a stage magician performing in nightclubs. Hence she not only has a stack of personalized playing cards with her, but also the skills to drop and place them unnoticed. That way she plants a trace for enabling the police to follow her and Raven.
When the movie was made, Veronica Lake already was a star and Paramount's biggest box office drawer (you can read the story of her life following the Wikipedia-link above … it will send shivers down your spine). Alan Ladd in turn had appeared only in minor roles and so only was billed fourth in 'This Gun for Hire.' But his depiction of the 'hitman developing a conscience' immediately made him a star. It was Ladd's performance which established this kind of meanwhile transmedially iconic character. The same type made Alain Delon a star 25 years later, performing in 'Le Samouraï' (aka 'The Samurai' | Melville 1967).
'This Gun for Hire' of course is pure film noir and has no science-fiction elements whatsoever. But towards the end there are scenes which æsthetically link film noir to cyberpunk: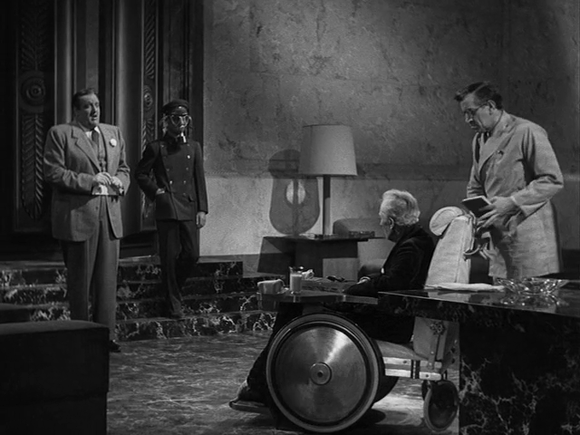 GREENE, HENRY GRAHAM. 1936. A gun for sale. London: William Heinemann.
MELVILLE, JEAN PIERRE. 1967. Le samouraï (aka The samurai) [motion picture]. Paris: S. N. Prodis.
TUTTLE, FRANK. 1942. This gun for hire [motion picture]. Hollywood: Paramount Pictures.