zeph's pop culture quiz #41


Who is coming towards us through the fog?
Just leave a comment with your educated guesses—you can ask for additional hints, too. [Leaving a comment is easy; just click the 'Leave a comment' at the end of the post and fill in the form. If it's the first time you post a comment, it will be held for moderation. But I am constantly checking, and once I've approved a comment, your next ones won't be held, but published immediately by the system.]
UPDATE 1 (18 September 2012):


All right, I won't solve the riddle today, although it's overdue—it's just to much fun for me that for once you don't solve it at once. Here's a recap of what has been found out till now: The silhouette approaching is the impersonation of a Western hero of days gone by. You may be able to identify the impersonated by the close-up above. The plot of the movie has something to do with what we are doing here: Playing a movie quiz … now go ahead!
UPDATE 2 (19 September 2012):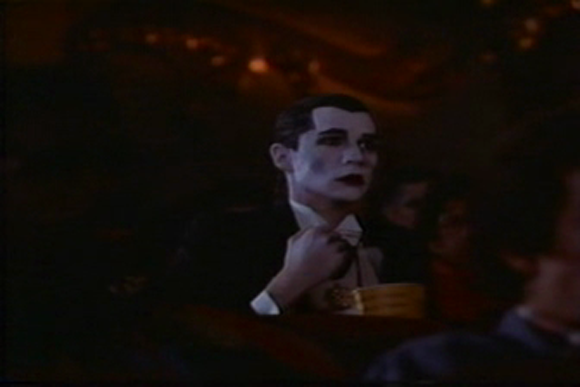 This proofs to be an incredibly hard one :) But this new screencap should give it away—who is sitting in the cinema, done up as a vampire Bela-Lugosi style? It's the same man who impersonated Hopalong Cassidy above.
UPDATE 3 and solution (19 September 2012):



Seems like the last screencap indeed gave it away, and ↵Alhambra solved the riddle—congratulations! It is Eric Binford (Dennis Christopher) who impersonated Hopalong Cassidy and who sat in the cinema as Count Dracula in '↑Fade to Black' (Zimmerman 1980), which meanwhile has cult status.
Binford is at the fringe of society and has a lowly-payed job within Hollywood's movie industry. Nevertheless he lives for the movies, or in the classics of American cinema, knowing virtually everything about them. He is unbeatable at movie trivia. When his hope for personal happiness shatters, or seems to, something snaps within Binford's soul. He begins to murder those who tormented him and stages every homicide as a famous scene from a silver screen classic.
As a teenager I saw the movie on late night television and for once was satisfied with the title the German distributors cooked up: 'Die schönen Morde des Eric Binford' [The Beautiful Murders of Eric Binford].
By the way, in the middleground of the first screencap, the one with the silhouette coming through the fog, you can see two black figures. A minute later one of them is shot by Binford as Cassidy, because he always bullied him at work. The bully Richie is played by Mickey Rourke.
ZIMMERMAN, VERNON. 1980. Fade to black [motion picture]. Los Angeles: American Cinema Releasing.