zeph's pop culture quiz #48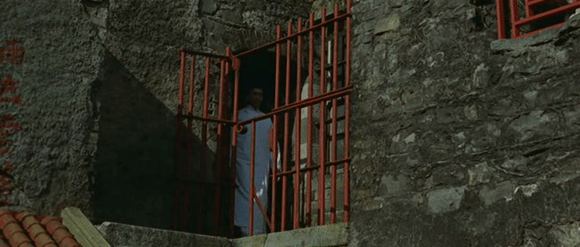 Who is emerging from that door? And where is he headed to?
Just leave a comment with your educated guess—you can ask for additional hints, too. [Leaving a comment is easy; just click the 'Leave a comment' at the end of the post and fill in the form. If it's the first time you post a comment, it will be held for moderation. But I am constantly checking, and once I've approved a comment, your next ones won't be held, but published immediately by the system.]
UPDATE and solution (11 November 2011):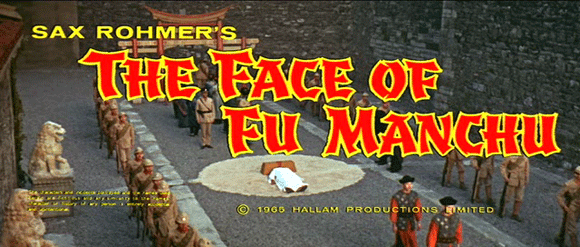 And again Alexander Rabitsch almost immediately ↵recognized the movie the screencap stems from: '↑The Face of Fu Manchu' (Sharp 1965), starring ↑Christopher Lee. But he is reluctant to tell us who it is, emerging from the doorway: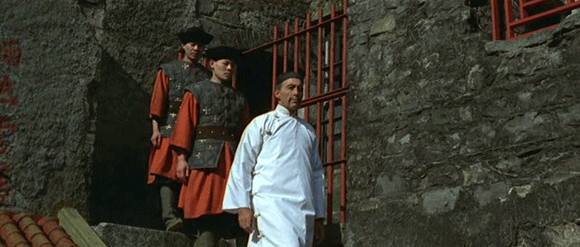 It's Christopher Lee, yes, and within the story it seems that it is ↑Dr. Fu Manchu, heading towards his own beheading. Even his arch-enemy Sir Denis Nayland Smith (Nigel Green) believes so. But it isn't. Rather the sinister Doctor has hypnotized an unnamed Chinese actor who now is executed instead. That's not too much of a spoiler, because the ruse is quite obvious within the first few minutes of the movie.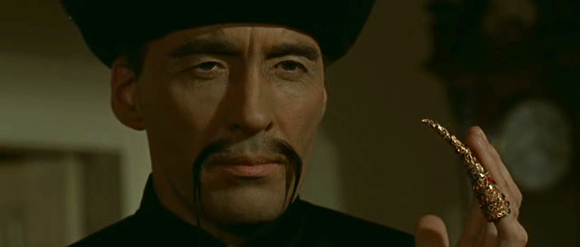 SHARP, DONALD HERMAN 'DON.' 1965. The face of Fu Manchu [motion picture]. Munich: Constantin Film.