zeph's pop culture quiz #5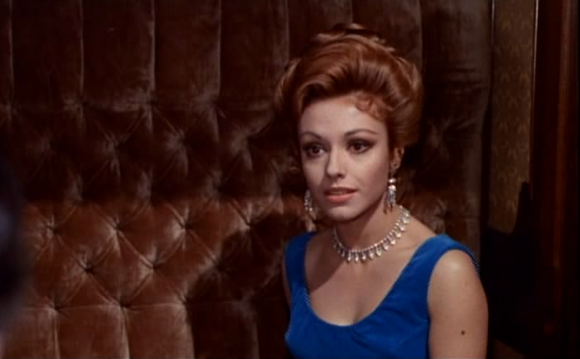 Here's a teenage crush of mine. When I first saw her on the screen, I immediately fell for her. But the question is: Where is she in the scene pictured? The answer to the question at the same time is the title of the movie I took the screencap from. It features an absolutely high-calibre cast and during a decisive moment of the story outer space is to be seen through a microscope.

UPDATE and solution (04 December 2011):
Countess Irina Petrovski (↑Silvia Tortosa) is in the ↑Horror Express (Martin 1972)—and again Alexander Rabitsch ↵got it. Here's the high-calibre cast: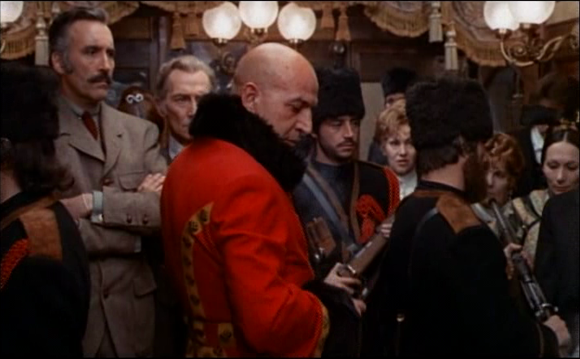 From left to right: Christopher Lee, Peter Cushing (slightly hidden), and Telly Savalas. The story is set in 1906. Lee plays Professor Alexander Saxton, an English anthropologist. In a cave in Manchuria he has discovered the frozen remains of a prehistoric humanoid creature. Via the Trans-Siberian Express he now transports his scientific treasure to Europe—hidden in a locked crate, and jealously guarded. Inexplicable murders happen and the horror begins to unfold in this hybrid out of horror, science fiction, and whodunnit à la ↑Murder on the Orient Express (Christie 1934). Saxton teams up with his peer and rival Dr. Wells (Peter Cushing). When the two scientists dissect one of the victims they make strange discoveries. Scrutinizing fluid from an eye of one of the corpses under a microscope they discover, among other things, a picture of planet Earth … as seen from outer space.
CHRISTIE, AGATHA. 1934. Murder on the Orient Express. London: Collins Crime Club.
MARTIN, EUGENIO. 1972. Horror Express (aka Panic on the Trans-Siberian Express) [motion picture]. Manchester: Benmar Productions, Granada Films.