zeph's pop culture quiz #9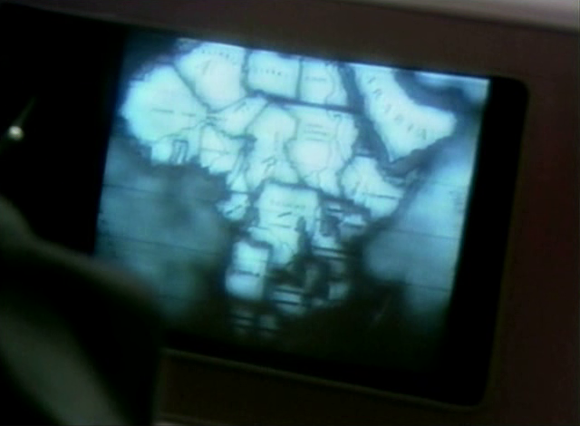 Who is watching TV in this screencap? Of course there are points awarded already for recognizing what he is watching. But a full solution requires the name of the actor watching, and the title of the movie within which he is watching a movie.
Just leave a comment with your educated guess—you can ask for additional hints, too. [Leaving a comment is easy; just click the 'Leave a comment' at the end of the post and fill in the form. If it's the first time you post a comment, it will be held for moderation. But I am constantly checking, and once I've approved a comment, your next ones won't be held, but published immediately by the system.]
UPDATE (05 January 2012):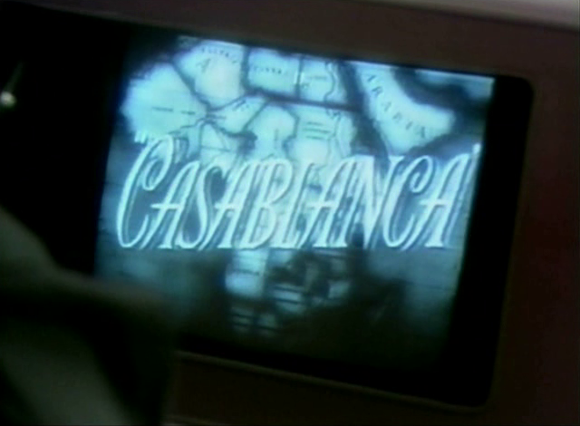 Now you know what he is watching. And, by the way, the movie is from the early 1980s.
UPDATE and solution (05 January 2012):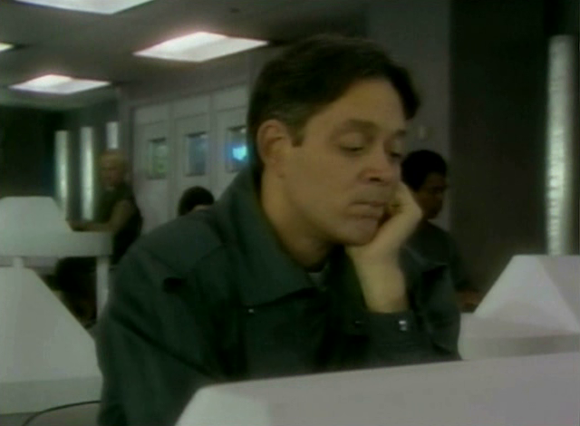 ↵Mona has solved the riddle—congratulations. It is ↑Raúl Juliá (1940-1994) of Addams-Family (Sonnenfeld 1991, 1993) fame! He plays the programmer Aram Fingal in the television film '↑Overdrawn at the Memory Bank' (Williams 1983). During the opening moments of the movie Fingal watches '↑Casablanca' (Curtiz 1942) on his computer monitor at work. Alas, in the dystopian near-future he lives, reigned by megacorporations, it's not only a felony to watch movies at work, but to watch movies at all.
As a means of correction and rehabilitation a company psychiatrist sends him to a kind of resort, where his mind shall be uploaded into an animal for some days. This experience, it is expected, will have a cathartic effect on Fingal. As he is low on financial resources, the only animal available for him is a baboon. When the baboon takes a fall Fingal's mind is extracted via an emergency procedure by the computer controller Apollonia (↑Linda Griffiths). The idea is to save Fingal's mind from further harm, and to reupload it into his own human body. But meanwhile a school kid, who was on a visit of the facility with his class, has playfully exchanged the tag on Fingal's body with the tag from another body. Because of this Fingal's body can't be found when needed. Apollonia saves Fingal's mind to a computer cube, but this device has only a limited operational timespan.
Fingal wakes up seemingly at home. But in fact he is within a virtual reality created out of his memory contents. The Novicorp CEO orders Apollonia to project herself into the VR, too. Her task is too keep Fingal calm until his body is found and the crisis can be resolved. Through the course of the story Apollonia is more and more disgusted by the orders and plans of the evil corporation CEO—in fact she fell in love with Fingal on first sight. She also is meant to prevent Fingal from realizing, that he is within a simulation. But Fingal quickly becomes aware of this, and also finds out that he can alter this reality by willpower. The vernacular really begins to hit the fan when the cube expires and Fingal instead is uploaded to Novicorp's mainframe computer HX368, which controls everything from the company's finances to the weather in empirical reality. Now Fingal begins to hack the system from within … but no more spoilers now.
Just as the today little known 'Cyborg 2087' (Adreon 1966) quite obviously was a heavy inspiration for 'Terminator 2: Judgment Day' (Cameron 1991) [see ↵zeph's pop culture quiz #8], 'Overdrawn at the Memory Bank' seems to have had quite an influence on '↑The Matrix' (Wachowski & Wachowski 1999). Here is a screencap showing Fingal at the very moment when he realizes that he can shape the virtual reality he is trapped in to his will: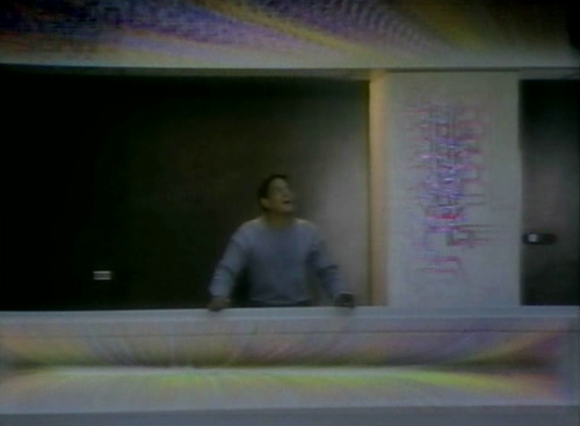 When Neo (Keanu Reeves) realizes this in 'The Matrix' he suddenly sees the world surrounding him as program code—Fingal sees it as computer circuitry. Hold your breath, there's more to it. Just seconds after the circuitry effect data begins to rain from above.
Quite similar to the falling matrix-code that meanwhile has become a globally recognized iconic picture. And there's yet more. Remember when Thomas A. Anderson aka Neo for the first time speaks to Morpheus (Laurence Fishburne) via a mobile phone delivered to him by FedEx or other? Like Fingal he is working as a lowly programmer for a megacorporation ('MetaCortex'). And like Fingal his workplace is in an open plan office. The only difference is that Anderson has a cubicle, in Fingal's world the workstations are openly placed. Then the Agents arrive and chase Neo through the cube farm. Later in the movie we get to know that all this happened within a virtual reality, the meanwhile proverbial matrix. Within the virtual reality of 'Overdrawn' Fingal returns to his workplace—and is chased out of it by the agents in dark suits the evil CEO had projected into the simulation.
Apart from this Matrix-connections 'Overdrawn' wonderfully illustrates the intertwinement between cyberpunk and classic film noir. As a fan Fingal shapes the virtual reality he is taking over as the world of film noir, 'Casablanca' of course in particular. ↑Louis Negin as 'Pierre' for example gives a fine impersonation of the immortal ↑Peter Lorre [besides Vincent Price an all-time favourite actor of mine].
I really do not want to tell everything. There's much more in 'Overdrawn at the Memory Bank,' both for the cyberpunk and film-noir aficionados. Today the movie seems to be forgotten, and till now I nowhere have read anything on its connection to 'The Matrix.' Granted it's a low budget TV production, but the acting is fine, the effects are as fine as they could be at that budget at the time (one of the first movies ever which used the pixelation effect), and the story is superb—little wonder, it's based on a short story by ↑John Varley (1976).
ADREON, FRANKLIN 'PETE.' 1966. Cyborg 2087 [motion picture]. ?????: Feature Film Corp. of America.
CAMERON, JAMES FRANCIS. 1991. Terminator 2: Judgment day [motion picture]. Culver City: TriStar Pictures.
SONNENFELD, BARRY. 1991. The Addams family [motion picture]. Los Angeles: Paramount Pictures, Orion Pictures.
SONNENFELD, BARRY. 1991. Addams family values [motion picture]. Los Angeles: Paramount Pictures.
VARLEY, JOHN HERBERT. 1976. Overdrawn at the memory bank. Galaxy May 1976: 74-102.
WACHOWSKI, ANDY AND LARRY WACHOWSKI. 1999. The matrix [motion picture]. Melbourne, Burbank: Warner Bros. Pictures.
WILLIAMS, DOUGLAS. 1983. Overdrawn at the memory bank [TV film]. Arlington: Public Broadcasting Service.